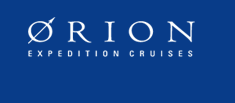 Orion Expedition Cruises
Cruiseline
Orion Expedition Cruises
General
Founded in early 2004, Orion Expedition Cruises has developed voyages to encourage guests to become a part of the region they are discovering.
Our vessels are purpose built vessel designed to access the inaccessible, all in 5-star luxury. The ships combine the best and the latest in design with maritime and environmental technology, comfort and casual elegance. From the ice-strengthened hull to the chilled champagne and superb cuisine, this is expedition cruising at its finest.
All staterooms and suites feature ocean views and offer internet access, flat-screen TV, DVD/CD, a choice of twin and queen sized beds, a sitting area and marble bathrooms. Other on board amenities include a health spa with gymnasium, sauna, sun deck Jacuzzi (Orion only) and a stern marina platform.
Orion offers a range of included and optional Shoreside Expeditions designed to enhance the destination exploration for our guests. From Camel Safaris in Broome to snorkelling over pristine coral formations, there are many unique opportunities for guests to visit areas of Australia that even most Australians don't get to see. As part of our commitment to offering guests an enriching experience, on board speakers have been selected for their knowledge and expertise on the regions they visit.
We would be delighted to have you join us on a voyage to some of the most wonderful but rarely seen places on earth.